Yes by finishing touch hair remover is one of the latest beauty devices to remove hair on all parts of the body without shaving, waxing, electrolysis or laser.
Instead, it uses sensa-light technology to shave hair from several parts of the body with no pain or skin irritation. According to the manufacturer, it is an ideal tool for women who would like to get rid of all the unwanted hair.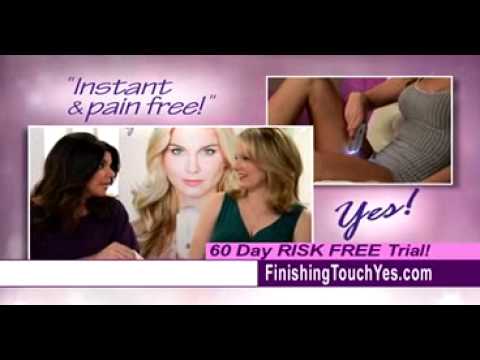 Also, the manufacturer claims that it makes hair removal process hassle and pain free. It is purported to be among the best replacements for other conventional hair removal methods that cause a lot of discomfort and bad odor.
Features and Specifications of Yes By Finishing Touch Hair Remover
In order to facilitate a quick hair removal process, yes hair remover for women has the following features:
Sensa-light technology: This light shaves the hair on the body without causing pain or skin irritation. It has the ability to get into the crannies, nooks and gets rid of peach fuzz with no cuts, pain or nicks. According to many users, it's like a massage and makes shaving fun and easy.
Rechargeable Lithium Battery: It has a battery which can be recharged in case the power dies off. This makes it reliable and easy to move around with for those who like travelling.
The Charger Cord: The charger cord is long (39") enough to allow the users use this amazing tool even if they are far away from the source of power.
Contoured Head: The contoured head simply glides along the skin and this ensures that hair is removed even from hard to reach areas. Furthermore, it also makes it easy to remove hair from sensitive areas.
 Benefits Of Using Yes By Finishing Hair Tool Remover
The above features make this shaver have the merits below:
#1. User Friendly
Before the invention of this tool, women used to suffer a lot while shaving their hair due to pain and unpleasant odor. The good news is that those days are long gone. Yes by finishing hair tool removes unwanted hair without pain, skin irritations and leaves no bad odor.
#2. Easy To Use
Using this tool does not require you to be an expert! All you need is to turn the device on and wait till the front LED flash in 0.5 second intervals. Then make it be in contact with the skin and slide it in the area you want to shave. After finishing, turn the power off and you are done.
#3. Works On All Skin Types
The device works gently and removes hair on all different types of skins; be it oily or non-oily.
Cons
So far, the product has not received any criticism from the users and this makes it an ultimate yes hair remover for women.
 In conclusion, every woman should turn to this amazing hair product removal to remove hair from all areas on their body. It is hassle free and leaves your skin feeling massaged without a single side effect. Why hesitate? Run and get yourself this amazing device and enjoy the best hair removal experience ever.
Yes By Finishing Touch Hair Remover
Price: $39.99
Ckick Here To Order!