What are Jeaneez:
They are leggings that give you the comfort you expect but at the same time they are stylish and fashionable like jeans.
Jeaneez are meant for today's women who won't compromise on the style and comfort of clothes they wear on a regular basis.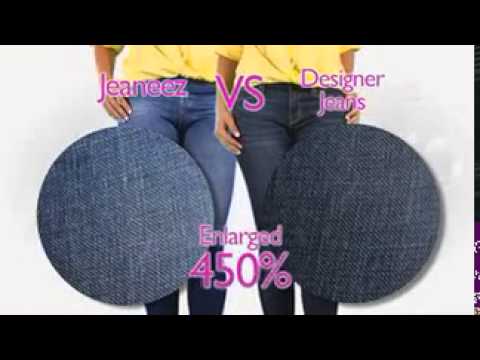 You like the look of jeans, especially when they are smartly designed but you also understand the discomfort of wearing them every day.
But what if you were told that you could get leggings like comfort while staying fashion forward with trendy, skinny jeans look? That's what Jeaneez claims to do for you.
Combines unique comfort of leggings with modern jean designs
Light compression zones shape your glutes and legs making them look firm and slim
Design will never twist, tangle or kink
Unique design helps get rid of unwanted love handles
Sleek and seamless design features no buttons or zippers
Jeaneez is made out of fabric that does the trick
Jeaneez has the potential of being a hit with women today because it offers them all the comfort of leggings with modern jeans designs.
And that's possible thanks to the Photorealistic 3D printed fabric that looks like denims. In fact no one would be able to tell that they are leggings you are wearing.
Another highlight of the patented design of Jeaneez is that it will never twist or kink. Moreover it doesn't get tangled as well and keeps giving you that confidence boost for long.
Buy the Stone Blue Jeaneez™ for $19.95 plus $7.95 P&H and get Stone Black pair and Distressed pair for FREE, just pay additional $7.95 P&H. That is three pair of Jeaneez™ for one low price!
Price: $19.95
Click Here To Order